Designer of daily simplifications...
3 types of clocks for 3 needs, from 3 years old
With the 24-hour clock, the child understands his routine and visualizes his day at a glance. The clock is silent and can be placed in the bedroom.
The motorized needle points to the illustrations you have placed on the dial. Your child will then be able to know all by himself, by looking at the illustration pointed by the hand of his clock, if bedtime is approaching, if he should soon go to the table. This tool will help him through his day and even remind him to brush his teeth.
With the clock of the week, finished the immobile weekdays. The motorized hand of this silent clock goes around the dial all by itself in 7 days, it moves very very very slowly. With it the child learns the days of the week and their succession.
You place on the dial the stickettes of your week's activities and the child will know for himself if he goes to school today, if he has sports, if he sees his grandparents, if he has to go to the doctor, etc
With the silent 12-hour clock, the classic, children will learn to tell the time like a grown-up on a support designed for them. Playful and colorful, it will also be a beautiful decorative object. The minutes are well noted and the hours most often have a double numbering to distinguish the am and pm period.
THE CLOCKS 24h and week ARE SUPPLIED WITH THEIR STICKETTE BOARDS,
STICKERS THAT CAN PEEL AND REATTH ON THE DIAL OF CLOCKS.
Regarding their production, all clocks and sticker sheets are made in France.
The dial is made of recyclable, light and resistant plexiglass, safe for children.
The needles are custom cut by me in my workshop.
The motors are designed in Asia, the only manufacturer of this accessory for wall clocks.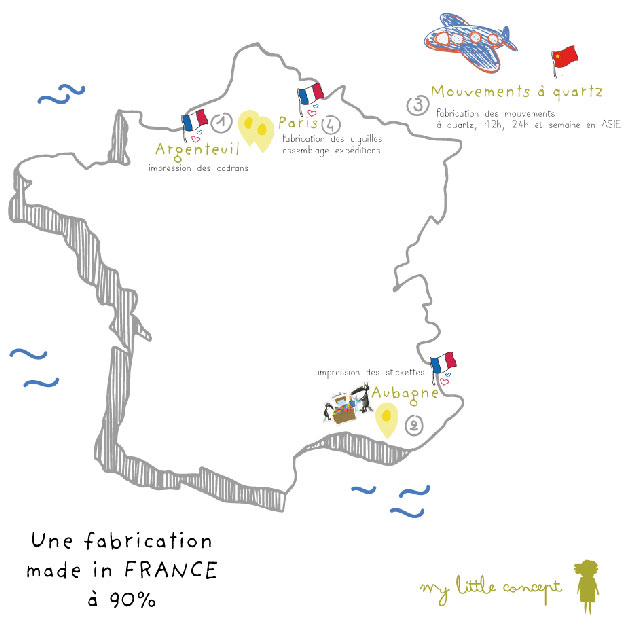 As far as I'm concerned, I started my career as a teacher. After 12 years of teaching and the birth of my three daughters, I changed jobs and created My Little Concept.
Today I work in partnership with Auzou editions for Loup, with MercisBV for miffy, with Pauline Baartman for Thuis Bij Muis, with Canal Plus for Ernest&Célestine and with my personal illustrations.
For these partnerships I have an official license allowing me to offer you models with your favorite characters.
Louise Pignier also accompanies me for the realization of certain illustrations.
Do not hesitate to contact me if you wish, "contact us" in the bottom of the page.